Best 3 Shavel Home Products Electric Heated Blankets Reviews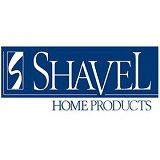 Have you thought about buying the Shavel heated blanket?  If you had, this article has important information for you.
The article elaborates on one of many cosy products Shavel Home Products has to offer, their electric blanket. It includes reviews and details concerning different models of said electric blanket and their additional features but also brand itself. It only leaves you to decide which model is the most suitable for your needs.
The Shavel Home Products Brand
What Does The Brand Shavel Home Products Has To Offer?
The Shavel Home Products offers variety of products that will keep you warm throughout the whole year. Some of these products include high quality comforters, blankets, sheets, sleeping bags, fitted quilts, throws, bedspreads and multiple electric textile products.All of these products are made to keep you cosy and enable maximum comfort.
Where Can You Buy Shavel Electric Blanket?
The Shavel electric blankets and their other products are available in various colours and prints on their official site. However, retailers such as Amazon may sell the same products for more affordable prices. Even though discounts may be offered on the Shavel's official sites as well, Amazon offers even lower prices with its additional coupons and warehouse deals.
What Is The Price Range Of Shavel Heated Blanket?
As it was previously mentioned, the price of the Shavel heated blanket varies based on the retailer. What is more, it may vary due to different sizes and additional shipping fee depending on your location.In comparison to other sellers of electric blankets, The Shavel Home Products offers affordable heated blankets taking into consideration their high quality.
Warranty On Electric Blankets
The shavel Home Products has the warranty period of 5 years on their electric blankets and comforters. The warranty covers faulty materials or original manufacturing issues but it will not cover defects that were caused by transportation, unsuccessful repair by someone else, etc. Do not forget to registerShavelelectric blanket for warranty in period of 30 days following your purchase.  That can be done on their official pages.
Return And Customer Service Of TheShavel Products Brand
The product can be returned within 30 days of its purchase. For any additional inquiries you may contact The Shavel Products via their e-mail or retailer via Amazon, depending on where you purchased your electric blanket.
Best 3 Shavel Electric Blanket Reviews
The Shavel focuses on quality and does not have many different models of electric blankets. Namely, the Shavel offers three different thermee electric blankets; their classic Electric heated blankets, Electric Sherpa blankets and Electric ultra velvet.
ClassicMicro Flannel Electric Heated Blanket
Electric BlanketMaterial
The Shavel's most popular model according to their official page is electric blanket made out of quilted micro flannel technology. It has seven layers ofmicro flannel fabric that can be heated. It is lightweight (6.7 pounds) and comes in 13 different colours and prints.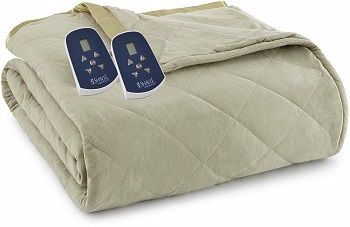 Maintenance Of The Electric Blanket
The material is easily maintained as it does not to be washed by hand and you can detach the cord and controllers from the electric blanket. In addition, it can be machine washed and it will not change in size or have creases. Fabric dries rapidly as well.
Cord And Controllers Of The Electric Blanket
Each heated blanket comes with the blanket, two controllers that have a timer that can be programmed and 16 foot cord.Controller may be programmed up to 12 hours. They are ETL verified and therefore safe to use.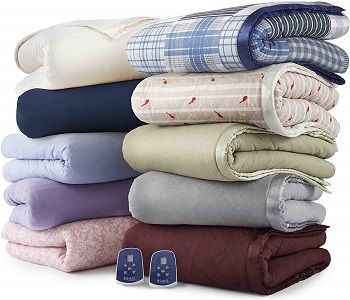 Heating of The Electric Blanket
The controllers have 8 different heat settings that you may regulate according to your needs. In addition, the electric blanket ceases heating after 10 hours for your security.
Different Sizes Of The Electric Blankets
The blanket comes in four different sizes that you may choose from; twin, full, queen or king. Twin size is 66 in x 85 in, full size is 72 in x 90 in, queen size is 90 in x 90 in and king size is 108 in x 90 in.
Characteristics:
easy to use
different sizes that may fit any bed
machine washer safe
ceases heating automatically after 10 hours
Electric Sherpa Blankets
Material Of The Electric Blanket
The main difference in comparison to the Shavel's classic quilted micro flannel layers is the Sherpa top. Namely, the Sherpa Fleece top makes the blanket even softer and more comfortable. In that way, customers are more likely to use them even when they are not heated.
Available Sizes For Every Person
The material comes in 10 different colours and patterns and all fours sizes (twin-king) as the classic model. In addition, due to a different material, it weighs 7,95 pounds.
Maintenance Of The Sherpa Electric Blanket
Despite the Sherpa fleece top, this model of electric blanket is machine washable and also dryer safe. Therefore, this model is also convenient for maintenance and you will safe on energy due to its fast drying and washing.
Heating Of The Electric Blanket
Heating is controlled by two controllers with 8 settings and 10 hour safety shutoff. Also, it has ability to heat on both sides and it heats fast. Due to its reversed top that is replaced by Sherpa material it is less likely that it will slide off in comparison to the Shavel's classic model made out of quilted micro flannel fabric.
Characteristics:
fast heating
top made out of comfortable Sherpa material
dryer safe
Electric Ultra Velvet
Material Of The Blanket
Similarly as the electric Sherpa blankets, quilted top of the original blanket was replaced by velvet fabric in order to make it more cosy and warm. The model has 5 plush velvet colours to choose from and reversed top makes the blanket the most comfortable of the three. This material is also easy to maintain as it is machine washer safe and may be but into dryer.
Heating Of The Ultra Velvet Electric Blanket
Reversible velvet top being the only new feature of the Ultra Velvet model, older customers already know how to operate the heating system with its two controllers and 8 settings. However, new customers did indicate that controls may be difficult to manage as there is not indicator whether it is heating.
Sizes Of The Blanket On The Market
Unlike the other two termee electric blankets, it does not come in all four sizes. The Ultra Velvet Electric Blanket is limited to full-king sizes and therefore does not include a twin size.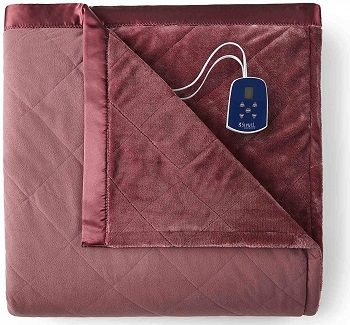 Price Of The Blanket
It has the same basic features of the other two but it is more expensive in comparison due to its high quality velvet fabric that is on the top and different innovative colours that other models do not offer. However, according to the Shovel's official website, they see electric blanket as an investment due to the products durability. Also, a great customer service will make sure that your product is functioning properly after the purchase.
Characteristics:
top made out of soft velvet fabric
easy to use
machine wash face
Shavel Electric Blanket Parts And Accessories
The Shavel electric blanket is user friendly and does not have many different parts. It comes with a blanket and two shavel electric blanket controllers. The cords of a blanket are hidden in the blanket and therefore they are not noticed unless you look for them. Should you warrant cease and your electric blanket controller no longer works, you may order it on Amazon.
Manual For The Shavel Electric Blanket
The Shavel electric blanket is easy to use. Two controllers that come with the heated blanket are used to regulate temperature. In addition, the blanket is safe to use because it turns off after 10 hours. For maximal cosiness during the night, preheat the blanket before going to sleep and turn off the heat when you lay in your bed. In that way your bed will be warm and you will fall asleep more rapidly. Answers to additional questions concerning the use of the Shavel electric blanket you may find in the Shavel's online electric blanket manual.
Conclusion: Why Should You Buy TheShavel Electric Blanket?
For someone who is buying the first blanket, I would suggest starting with the Shavel electric Sherpa blanket.It comes in all four sizes and it has additional sherpa material which makes the blanket comfortable even when it is not heated. In that way it suits every bed and you are likely to use it even during the less cold months.
If you are still indecisive on which electric blanket to buy, you may read my post about top rated electric blankets or the best electric throw blankets. If you seek an electric blanket that is more economical for your house hold, read more about low voltage electric blanket. For more affordable options, you may also read a post about cheap heated blankets or electric throws on sale.