Best 5 Serta Electric Heated Blankets & Throws Reviews In 2022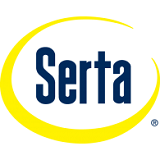 Are you eager to know more about Serta heated blankets and throws? This article will help you decide which model is for you.
The article analyses different models of Serta electric blankets and throws. Read reviews of their blankets and throws to find out which Serta models have the best features.
Serta As a Brand Focused On Your Comfort
What Serta Has To Offer?
Besides heated throws and blankets, Serta offers different products for your bedroom. You can buy their pillows, mattresses, bed frames, and sheets. If you have children or/and pets Serta has you covered. They sell crib mattresses, baby accessories, and beds for your pets.
Where Will You Find Serta Products?
You can buy their products on Serta's official pages. Serta brand has all their products neatly listed on their website. Just find the category you need. Another possibility is that you visit the pages of their retailers.  Retailers, one of them being Amazon, offer the same products.
Serta's Warranty Policy
Serta's warranty policy varies, depending on the item you purchased. Serta's heated blankets and throws, for the most part, have a 5-year warranty. For more information, visit their pages as they have warranty documents you can download.
Are Serta Products Within Your Price Range?
Serta's products are of high quality and that is also reflected in their prices. That is to say, some of their products are pricier in comparison to other manufacturers. They are a great investment if you want to buy products that will last you a long time. But you also have more affordable Serta models.
Amazing Customer Service
Serta has their number accessible on its official website. Their committed and reliable customer service team will do its best to solve your problem with a purchase. However, they are accessible only during certain hours.
Best 5 Serta Electric Throws And Blankets On The Market
Serta Perfect Sleeper Heated Throw/Blanket
Soft Material Of The Heated Blanket
This Serta heated blanket is made out of a silky plush that makes it very comfortable. Also, the warming blanket is 100% polyester. The top is silky plush but the heated throw has reversible Sherpa fabric. Customers comment that the perfect sleeper Serta's blanket is warm and soft even when it is not heated.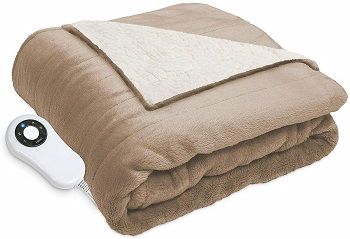 Limited Number Of Sizes And Colors
The heated throw does not come in many different colors, designs, or sizes. There is one available size for this model of heated Serta Throw; 60″ x 70″. It comes with a wire that is 8.5 feet long. As for colors, only taupe color is offered for this model of heated Serta Throws.
Controllers For The Heated Throw
For this heated throw, there is one controller per blanket. The controller that comes with this heated throw is easy to use. You can choose from five different heat settings of this Serta's warming throw. Just push the button and enjoy the warmth that is right for you.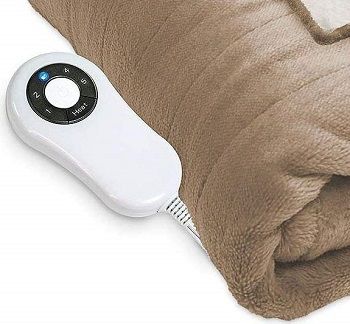 Safety Of The Serta Warming Throw
Serta's heated throw is not hazardous to use. This model of Serta's warming throws is ETL certified. If that is not ensuring enough, take note that the controllers have auto-off. Namely, they will automatically stop heating the blanket after four hours of use.
Price Of Serta's Warming Throw
High-quality throw manufactured by Serta come in different price ranges. This model of Serta's perfect sleeper warming blanket is on the expensive side. That is because of a high quality and luxurious heated throw's fabric and user-friendly controllers.
Why Should You Buy It:
A very soft and comfortable blanket
Easy to use controllers
ETL certified throw
Serta Perfect Sleeper Luxury Plush Heated Blanket
Very Comfortable Plush Fabric
The perfect fit Serta warming throw is made from a soft luxury micro plush fabric. The material of the electric blanket is very soft to touch and comfortable on your skin. That is due to the perfect sleeper's warming blanket thickness and quality material.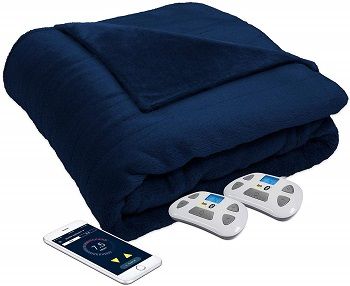 More Sizes And Colors Available
Unlike previously reviewed perfect sleeper throw, this one comes in more sizes. Sizes available for the luxurious perfect for warming throw are king and queen. Those are larger sizes and that is why they come with double controllers. Colors available for the heated throw are gray, navy, and taupe.
Two Controllers For Perfect Sleeper Heated Throw
As it was mentioned, all available luxury plush heated throws come with dual controllers. The controllers for perfect sleeper luxury plush throw are user-friendly. Additionally, they ensure 10 different heating settings and auto-off.
Hand Washing Of The Blanket Advisable
To maintain the perfect sleeper warming throw, you should wash it by hand. In that way, the luxury plush fabric of the warming throw will stay nice longer. You also will not experience any changes in the softness of the blanket or wrinkles.
Download The Serta App For Controllers
The perfect sleeper luxury plush electric throw comes with two manual controllers. However, there is an app you can download to track the heat easier. Serta developed its innovative app for an electric blanket but not for control. Your phone needs to be close to the heated blanket when using the app.
Why Should You Buy It:
Cozy plush fabric
More colors and sizes
Two controllers
Serta's app for controllers
Reversible Sherpa/Fleece Heated Electric Throw/Blanket
Reversible Material Of The Blanket
This model of Serta warming blanket/ throw is reversible. That is, you can choose the  Sherpa side of the electric blanket or a soft fleece side.  Both sides of Serta's electric blanket are comfortable and cozy options. The fabric is 100% polyester.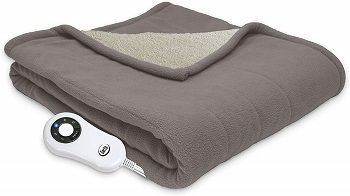 Many Different Colors
Contrasted to previously reviewed Serta blankets and throws, this model has the most color options. Namely, if you decide to buy this reversible heated blanket, you can choose out of 6 available colors.
Controller For The Blanket
Reversible Sherpa warming blanket comes with one controller. That is because this heated throw is available only in one size. Dimensions of the Sherpa electric throw are 50″x 60″. The controller for the Sherpa/ Fleece reversible electric throw is equipped with 5 heat settings. Energy-saving and safe controller stops heating after 4 hours.
Detect Issue With Your Controller
If you notice that controllers on your Serta heated blanket are blinking, something is wrong. Serta's electric blankets and throws have indicative light if they malfunction. In that kind of situation, use your 3-year warranty.
Affordable Heated Throw/ Blanket
In comparison to other models of Serta heated throws and blankets, this one is affordable. However, that does not mean that the quality is decreased.
Why Should You Buy It:
Reversible material of the blanket
Variety of colors
Easy to detect controller issues
Serta Cuddler Heated Throw With Pockets
Design Of The Cuddler Heated Throw
Serta's heated cuddler throw comes with warming pockets. Serta throw's deep pockets are ideal if you cannot warm your hands during winter. The design of the Serta heated throw is wearable and comfortable. Comfort is ensured with the electric throw's plush polyester fabric.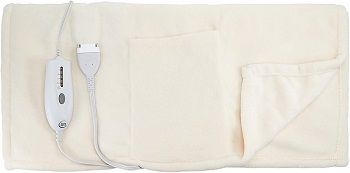 Serta Cuddler's Color And Size
Heated throw with pockets does not come in many sizes. There is one available size of a warming cuddler; 74 x 26″. That is an oversized model that fits most people. Sizes of this model of Serta's warming throw are also scarce. There is only a light-colored cloud model available.
About Controllers Of The Throw
The heated Serta throw comes with one controller. Serta cuddler throw also comes with a thin wire and a power cord that is 14.6' long. Heated throw with pockets has a choice of five different heating settings.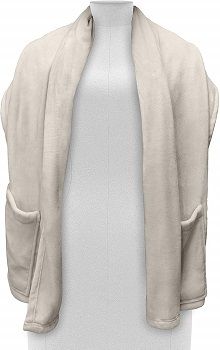 Safe To Use Heated Cuddler
Serta heated cuddler with pockets is safe and easy to use. Namely, the warming throw is ETL certified. Also, the controller for the warming cuddler has auto-off. It will stop warming after four hours of use for your safety.
Warranty And Controller Issues
The electric Serta cuddler comes with a three-year warranty. If you notice flashing light on your heated throw, you will have to replace it. If the warranty for your heated throw expired when the blinking light starts, replace the controller yourself. Replacement parts for the heated cuddler can be found on Amazon.
Why Should You Buy It:
You can wear it
It has warming pockets
Unnoticeable wire
Long power cord
Serta Heated Electric Honeycomb Faux Fur Throw
Honeycomb Design Of The Heated Throw
The special design of this heated throw is its honeycomb style fabric. The advantage of that fabric on the electric throw is that it will reduce the chance of slippage. Also, the honeycomb design of Serta's electric throw makes the fabric thicker and warmer.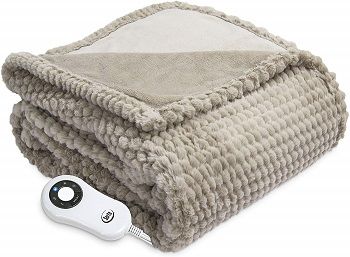 Fabric Of The Throw
Fabric that was used in the making of honeycomb throw is 100% polyester. The fabric of this Serta's warming throw is animal-friendly faux fur. Because of the fabric, the honeycomb warming throw is aesthetically pleasing.  You can get the heated throw in colors grey and sand.
Heating Of The Throw
The heating of the heated throw is not complicated. Use your controller with 5 different settings to adjust the warmth of the throw. You can preheat the bed or sofa using the honeycomb warming throw.  Controllers have auto-off so do not worry if you fall asleep.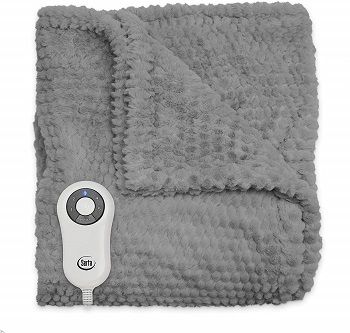 Maintenance Of The Throw
The structure of the heated throw's fabric looks high maintenance. However, you can use a washing machine to clean your electric throw. To ensure that you will not damage the fabric, follow instructions on the manual.
Warranty Of The Throw  
The honeycomb model of the heated throw has a warranty that expires after three years. Read the whole manual to find out what the warranty covers.  And it might be good to register for the warranty after the purchase.
Why Should You Buy It:
Comfortable honeycomb design
Reduced chance of slippage
Washing machine safe
Parts For The Serta Electric Blankets/ Throws
For heated Serta products still under the warranty, they will most likely replace the controller for you. If that is not the case, you can find Serta electric blanket controller online. Replacement parts for your electric blanket can be found on Amazon or Serta's website.
Conclusion: Investing In Serta Warming Blankets/ Throws
Due to their high quality, you cannot miss with any Serta model. Models such as Serta Heated Electric Faux Fur Throw or Reversible Sherpa Electric Throw/Blanket are good for starting your Serta journey. If you need something wearable, I suggest Serta Cuddler Heated Throw With Pockets.
If you still do not know which electric blanket or throw to buy, read my articles about the best electric blankets or the best electric throws. If affordability is a major factor, read articles that cover electric throws on sale, best deals on electric blankets or cheap electric blankets.