Top 5 Large & Oversized Electric Heated Blanket Reviews 2022
Do you need an electric blanket that will keep you warm but cannot find one large enough for your bed? Read my article and you might find what you need.
You will know what you should focus on when buying a large or oversized heated blanket. Also, you will read about the best models of oversized heated throws and their advantages.
Look Up These Characteristics
Dimensions Of Heated Throws Available
If you are reading this article you are interested in larger or oversized dimensions of blankets. Most heated blankets and throws will have available queen and king sizes. These sizes should fit the largest beds. Check the exact dimensions on your retailer's pages or manufacturers' websites.
Where To Buy A Blanket?
No matter the size, the heated blankets should be available on the official sites of the manufacturer. Another option is buying a blanket from a retailer. In that way, you will get the heated blanket at a lower price.
User-Friendly Heated Blankets
The blanket or throw you are buying should be user-friendly when it comes to controllers. Especially if you are buying the heated blanket as a gift. Also, it should be low maintenance and washing machine safe.
Blankets Within Your Price Range
There are many different models of large heated throws and blankets on the market. Since we are focusing on the manufacturers that offer large, extra-large, or oversized heated blankets and throws, they will be more expensive. However, the price will depend on a manufacturer and specific models and their features.
Electronic Parts Of The Blanket
Electric heated throws and blankets come with the wire and controllers. Large, extra-large and oversized electric blankets will come with two controllers. It is important to check how many heating setting they have and if they automatically shut-off after 4 hours of use.
Best 5 Oversized Large Heated Blankets And Throws
Best Cheap Electric Throw Blanket
Beautyrest Ogee Oversized Heated Throw
Design Of The Heated Throw
This Beautyrest oversized electric blanket is special due to its distinguishable ogee design. The oversized heated blanket comes in many different shades of blue color. The material is 100% polyester and also micro-plush that makes it soft.
Controllers For Oversized Electric Blanket
Even though most large dimensions of heated blanket sand throws come with two controllers, this one has a singular controller. You can choose out of three different settings for your oversized warming throw. Also, it as a 2-hour shut off that will keep you safe at night.
Oversized Feature Of The Throw
The heated throw comes in one size, oversized 60X70in. That size of the heated throw is larger than standard throws on the market. In that way, it is ideal for the bed that is queen or king size.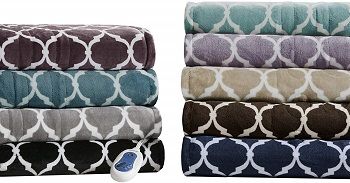 Low Maintenance Electric Throw
The maintenance of the throw is simple. You can use the washing machine to wash the throw. The electric throw is oversized but it will fit in the washing machine. But remember to unplug the electric parts of the blanket.
Innovative Technology Electric Blanket
What makes this blanket stand out is its innovative technology. Namely, when using the oversized electric blanket, do not worry about emission from the electromagnetic field. That is because the blanket takes into consideration its surrounding heat.
Features:
Easy to clean
Comes in oversized dimension
Distinguishable ogee design
Best King Size Electric Blanket
Beautyrest Oversized Microlight To Berber Heated Throw
Comfortable Heated Throw
This extra-large electric blanket comes in many different colors. And each blanket is made out of a very comfortable microlight plush. Besides, the electric blanket is reversible and on the other side, it is a Sherpa Berber fabric. Thin wires are also a feature that makes the throw very comfortable.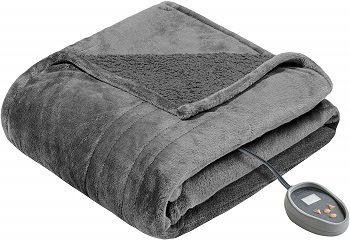 King Size Available
There are four sizes of the throw available. If you are interested in larger electric blanket sizes, I suggest king and queen-sized blankets.
Controllers For The Throw
What makes the controllers for this electric extra large heating blanket special are its 20 heating settings. Most controllers have only 3-5 different heating settings. Also, larger sizes of electric throw come with dual controllers.
Price Of The Heated Throw
In comparison to other available throws on the market, this throw is among pricier ones. That is due to its quality and the long history of the company that made the electric throw. Also, larger sizes are always more expensive.
Warranty For The Heated Blanket
This extra-large heated throw and blanket have a 5-year warranty. The warranty covers mostly damage that was caused by a manufacturer. In case you have an issue with your controller, contact the manufacturer and use the warranty.
Features:
Invisible and thin wires
Available in king size
Pricier than other throws
20 warming settings to choose from
5-year warranty
Best Extra Large Electric Throw
Beautyrest Oversized Plush Heated Throw
Multiple Styles Available
If the color of the throw is important for you, this might have just what you are looking for. The electric heated throw comes in six different color styles. Each style is a comfortable 100% polyester and very light.
Extra Large Size Of The Throw
The electric heated throw is a lightweight one due to the fabric. However, the size of the electric throw is extra large. The dimensions of this oversized heated throw are 60X70in. That dimension is suitable to cover a taller adult.
Easy To Use
The oversized heated throw is easy to use. Cover the bed or sofa with the blanket and preheat the mattress before going to sleep. Also, the cleaning is not hard as you do not have to wash the throw by hand.
Characteristics Of Electric Parts
Electric parts of the throw include the wire and the controllers that come with the throw. The cord is very thin and you will forget that it is there. The electric throw comes with two controllers. It has three different heating settings and it will cease heating after 2 hours.
Beautyrest' Customer Service
Quality is very important for Beautryrest company. That is why they have a free telephone number you can call. You will get their friendly customer service that will help you with your blanket.
Features:
Many colors available
The extra-large size of the throw
User-friendly throw
Best Cheap Oversized Heated Blanket
Beautyrest Zuri Oversized Heated Faux Fur Throw
Material Of The Throw
The fabric of the throw is a special fake fur that is made out of 100% polyester. That fabric makes the large electric blanket look aesthetically pleasing. Also, it makes the heated large throw very comfortable and cozy.
Singular Controller Of The Throw
Even though the heated blanket is larger, it comes with only one controller. The controller is easy to use and you can choose out of three heating settings. In addition, you do not need to worry about your safety because the throw has a 2-hour shut-off.
The Size Of The Throw
This large heated throw is an ideal one if you are looking for a throw that is of larger dimensions. Namely, the heated throw is 50X70in. That size will be large enough to keep your queen or king sizes mattress covered.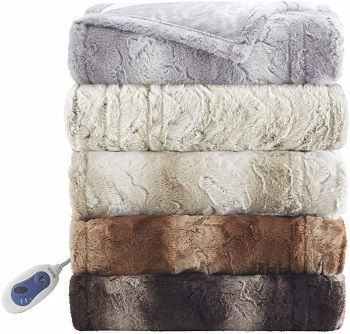 Available Colors Of The Throw
This extra-large electric throw and blanket come in five different colors. If you need a lighter colored throw, this model offers grey, sand, and snow colored throws. In case you prefer darker tones, chocolate or tan tip dye might be for you.
Cleaning Of The Electric Throw
This heated oversized throw is easy to maintain. That is because you can simply wash in a washing machine. However, the blanket might be more sensitive in comparison to your other blankets. That is why the manual provides more info maintenance-wise.
Features:
Very soft material of the blanket
Larger size available
Easy to clean
Singular controller for the throw
Best Queen Size Electric Blanket
Sunbeam Oversized Heated Throw
The Fabric And Color Of The Throw
The fabric of the heated throw is extremely soft velvet plush. This fabric is perfect for a heated blanket because it is very comfortable. Also, the velvet plush enables even distribution of the heat. This model comes in only one color; mushroom beige.
Queen Size Blanket
There is one size of this heated blanket model you can purchase. The exact dimension of the heated blanket is84X 90in. Therefore, the size of the heating blanket should fit even the largest mattresses.
Dual Controllers Of A Blanket
Because of its larger queen size, the electric blanket comes with two controllers. These controllers will heat differently two different halves of the blanket. Also, they have 20 different heating settings.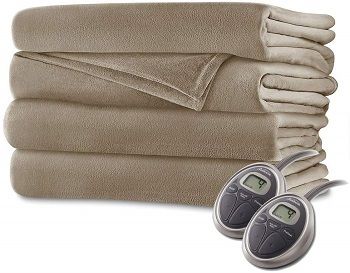 The Throw Safe To Use
Do not worry if you fall asleep with your heating blanket on the highest setting. The heating blanket has a built-in auto-off. That is, it will cease heating after 10 hours. Also, the electric throw will not overheat because it is set to self-adjustment. Therefore, it will heat at the same level throughout the night.
Heated Blanket's Warranty
The warranty of the blanket will last you for five years. Most customers have an issue with controllers. In case you experience that kind of issue, the manufacturer will replace this part of the blanket.
Features:
Queen size available
Two controllers for the blanket
Electric throw safe to use
Conclusion: Which Large Heated Blanket Should You Buy?
The article went through many different models of heated blankets and throws. If you do not know where to start, a very comfortable BeautyrestZuri Oversized Heated Faux Fur Throw is a good choice. If you seek a low-maintenance throw, Beautyrest Ogee Oversized Heated Throw might be a good one for you.
Still indecisive about the heated oversized electric blankets? Check out my article about the best rated electric blankets. Looking for a blanket that incorporates innovative technology? Read the article on UBS powered heated blankets. If you want a low voltage blanket to save on electricity, you might like the article concerning 12v heated blankets.