Best 5 Biddeford Electric Heated Blankets & Throws Reviews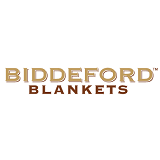 Are you having a hard time deciding which Biddeford's model of electric heated blankets is the one for you?
If that is the case, this article may be of help to you.
The article compares different models of auto-off Biddeford heated blankets and their features. Read more about their advantages and disadvantages.
Specifications Of Biddeford Blanket Brand
What Does Biddeford Offer On The Market?
Biddeford is a manufacturer that specializes in electric blankets and throws. Their offer is a combination of the latest trends in technology combined with secure, cozy and aesthetically-pleasing products. According to their website, they provide quality electric blankets, heated mattress pads, and heated throws.
Where Can You Buy Their Products Online?
Biddeford electric blankets and throws are available on the official pages of a manufacturer. In addition, you may buy their products from other retailers as well. For instance, Amazon offers a wide variety of Biddeford heated blankets on its website.
Biddeford Electric Blankets And Throw Price
In comparison to other electric heated blankets and throws available on the market, Biddeford electric blankets and throws are inexpensive.  It is also worth noting that you may get an even better deal if you opt for a different retailer such as Amazon.
Warranty Of Biddeford Products
Every Biddeford product has a 5 years warranty. However, that warranty is guaranteed only if you register your purchase on their official pages. The warranty will acknowledge a limited number of issues with your products. Make sure you carefully read through your warranty in case you will need to return your product.
Customer Service For Biddeford Products
In case there is something wrong with your blanket or you have additional inquiries, contact Biddeford.  Namely, you can get in touch with them via their free telephone. Their amiable employees that are part of a Customer Service Team will make sure you get the help you need.
The 5 Biddeford Electric Heated Blankets And Throws Reviews
Micro Mink Sherpa Blanket (Digital)
Micro Mink Sherpa Heated Blanket Material
Micro Mink model of Biddeford heated blankets is made out of very soft and comfortable microfiber Sherpa fabric. That is faux Sherpa material and therefore it is not made out of real fur. It comes in 6 different colors.
Micro Mink Sherpa Heated Blanket Sizes
Micro mink Sherpa heated blanket model comes in four different sizes. These sizes are full (72″ x 84″), king (100″ x 90″), queen (84″ x 90″) and twin (62″ x 84″). The weight of the Biddeford electric blanket varies depending on the size of the blanket.
Micro Mink Blankets Are Low Maintenance
Biddeford electric blankets and throws are low maintenance. You can wash them in the machine and put it in the dryer afterward. However, do not forget to remove the controllers before that.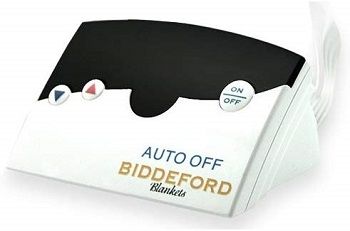 Cords And Controllers For Electric Blanket
Cords for the heated Sherpa blanket are very thin to ensure maximum comfort. Twin and full size of electric micro mink blankets have 1 digital controller but larger sizes (king and queen) come with 2 controllers. You can choose out of 10 different heat settings for your electric blanket.
Safety Of Micro Mink Electric Blanket Model
Electric blankets are safe to use due to their 10-hour timer after which they automatically stop heating. Additionally, Biddeford blankets were tested and their safety is guaranteed by ETK Intertek.
Why Buy This Product:
Very soft fabric
Safe to use
Low maintenance
10 different heat settings
Micro Plush Sherpa Blanket (Digital)
 Micro Plush Sherpa Blanket Fabric
Micro Plush model is made out of Plush Polyester. This material makes the blanket soft and comfortable on both sides. It also comes in 8 different colors and 4 different sizes. Sizes available are full, king, queen, and twin.
Therapeutic Heating Of Micro Plush Sherpa Blanket
The Micro Plush electric blanket model enables full-body relaxation with 10 different heating settings. Adjust them to your preferences and preheat your bed before going to sleep.
Cleaning of Micro Plush Electric Blanket
Regardless of a different material, this blanket also can be put in a washing machine and dryer. However, the blanket is delicate and you should wash it with cold water and gentle cycles. Additionally, do not put it in the dryer for too long or use high temperature. Improper care may change the structure of the blanket as it might become rough.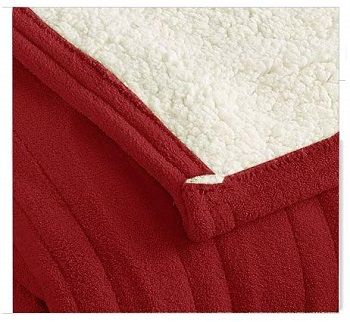 Price Range Of Micro Plush Electric Blanket
Prices of different Biddeford heated auto of blankets vary depending on their sizes and materials. Micro Plush model is the same price as the Micro Mink model. However, in comparison to other manufacturers, Biddeford is more affordable.
Digital Controllers For The Electric Blanket
Controllers for the blanket are digital (TC13B1). They are user-friendly but some customers report that they stopped working over different periods of time. Luckily, each blanket has a 5-year warranty should something similar happen with your blanket.
Why Buy This Product:
Therapeutic heating
Affordable product
Comfortable electric blanket
Micro Mink Sherpa Throw (Digital)
Material Of The Heated Throw
The material that is used for this model is microfiber. Its soft faux Sherpa material gives customers a comfortable and soft feeling on the skin. There are 6 available colors for this model.
Limited Sizes Of The Electric Blanket
Unlike other Biddeford electric blankets, the throw does not come in four different sizes. There is one size available: 50″ x 62″. Based on the size, the throw is very light and it weighs less than 3.7 pounds.
Controller/ Cord For The Micro Mink Throw
Controllers have 6 heat settings and they are easy to use. The electric throw comes with an ultra-thin cord that is 13 feet long.  Just as for the electric Biddeford blankets, customers complained about the short life of the controller.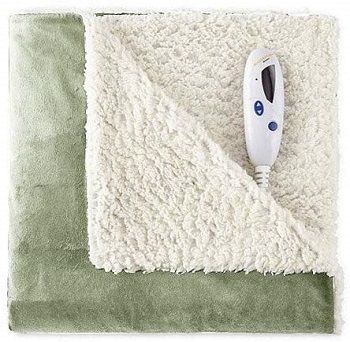 Difficulties Customers Experience With The Throw
Customers praise the blanket itself due to its comfortable material and variety of colors. However, some had issues with the controller as it stopped working in a short time. Another difficulty that some customers mention is that the plug is not attached properly to the blanket. As a result, it separates and stops heating over time.
Prices Of Throws In Comparison To Blankets
Throws are more affordable in comparison to Biddeford blankets. However, they do come in limited sizes and colors in comparison to electric blankets Biddeford has in their offer.
Why Buy This Product:
User-friendly
Light blanket
Very long cord
Micro Plush Sherpa Throw (Digital)
Material And Size Of The Heated Throw
Material is a very soft plush that is 100% polyester. Its dimensions are also 50″ x 62″ and that is the only size that you can purchase. Therefore, it is also light and weighs 3, 42 pounds.
Limited Choice Of Colors
The throw comes in a limited choice of colors in comparison to other Biddeford electric blankets. You can choose either Taupe or Red Buffalo Check. These colors are available only for this model of throws.
Maintenance Of The Throw
Like every other Biddeford product, it is easily maintained and can be washed in the washing machine. But also be careful and do not wash or dry it using high temperatures. And do not forget to separate the controllers.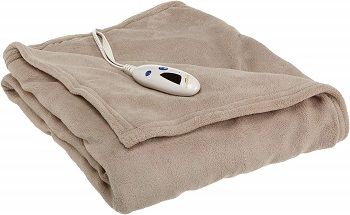 Auto-Off Sherpa Throw Controllers
The controller has the same features as the controller for the Micro Mink throw. That is to say, it has 6 settings and timer. Also, it automatically shuts off after 10 hours of use for your safety.  Customers report the same issues with it as with the Micro Mink Model throw.
Issues Some Customers Report About The Throw
Even though one technical specification of the electric blanket is automatic shut off, customers wrote it does not work with all controllers. In addition, some complained that the controller stopped working. Other complaints include one size of the throw that is perfect for one person.
Why Buy This Product:
Soft fabric
Two new colors
Comfort Knit Electric Heated Sherpa Blanket (Analogue)
Material Of the Heated Blanket
This model is designed for even more comfortable rest with an electric blanket. Material that is used is faux Sherpa that is 100% polyester. It is comfortable on both sides.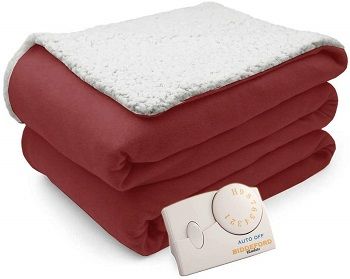 Available Sizes And Colors
Comfort Knit is available in all four sizes: full, king, twin, and queen. Comfort Knit electric blanket is available in 8 colors.
Shared Characteristics With Other Biddeford Models
This model is also low maintenance, light considering its size. It has a long cord that is very thin to allow maximum comfort. Also, it offers therapeutic heating during your slumber or rest and it is easy to use.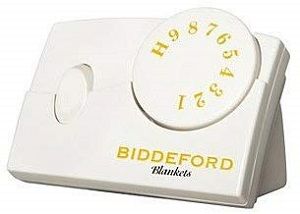 Analogue Controller For The Electric Blanket
This model has a different timer. Namely, Biddeford also offers analog controllers.  ANALOG – TC13B0 is the type of timer that comes with Biddeford's Comfort Knit model. It has 10 heat settings and it is even more user-friendly compared to a digital one. It has auto-off as well.
Affordability Of The Electric Blanket
The product is inexpensive in comparison to other electric blankets. However, customers frequently complain that electronic parts are poorly made. Therefore, low cost may be accompanied by the low quality of the blanket.
Why Buy This Product:
User-friendly
Comfort knit
Analog timer
Conclusion: Which Biddeford Electric Blanket Or Throw To Buy?
If you still do not know which blanket to choose, I would suggest starting with an inexpensive Micro Mink Sherpa Heated Blanket model. Looking for something even more comfortable? Biddeford has got you covered with Micro Plush Sherpa Blanket. If you like analog controllers, Biddeford has user -friendly Comfort Knit Electric Heated Sherpa  Blanket.
Are you still confused and indecisive concerning the heated blankets and throws? I have more articles for you. If you want to buy the best electric blanket out there, read my other articles. They include the best electric blankets and the best electric throw blankets and their features.